HOME (ARCHIVE – PAGE 2) OLDER POSTS:
MORE 2015 SHOWS ADDED
… a handful of extra shows added for this year
18 September 2015
I have a couple of extra shows for you this year, and stay tuned for big stuff in 2016!
SEPT 26: Leeds – Veg Out @ Northern Monk (w/ Post War Glamour Girls, Cowtown, Bearfoot Beware, etc.)
NOV 16: Leeds – Brudenell Social Club (w/ Julia Kent)
NOV 17: Sheffield – The Harley (w/ Marianne Dissard, Nat Johnson)
============================
NEW "CAULDRON ENSEMBLE"…
…Live Single from last year's Fell Foot Sound out now + Upcoming UK Tour Dates!
20 July 2015

Photo by Thomas Jackson
At least year's Fell Foot Sound festival, I joined forces with the previous players of the "Sonic Cauldron" concert for a second time. Here, myself, Katie Harkin (Sky Larkin, Sleater-Kinney, Wild Beasts), Tom Evans (Vessels) & Jenna Isherwood (Invisible Cities) played a set of new and old Juffage songs, including "Stop Making Music". Originally from 2011's Semicircle, this radically different version is the only time this song has been played as part of a group.
The single is now available to stream and buy from the Juffage Bandcamp page.
In other news, I'm heading out for another UK Tour beginning in August.
Joan of Arc's EU tour has been cancelled, so, sadly is this show on the 18th.
All other solo shows remain unaffected and are going ahead as scheduled!
For more info, check out the gigs page, or this superfly poster:
============================
SUMMER 2015 TOUR DATES…
…finally revealed. Plus a new surprise Invisible Cities album!
7 July 2015

Photo by Katie Harkin
I'm doing some gigs this summer around ArcTanGent Festival, playing new songs from my forthcoming record.
Head over to the gigs page for a luscious tour poster. Here's where I'll be headed:
AUG 14: Manchester – Carefully Planned (venue TBC)
AUG 15: York – City Screen Basement
AUG 16: Leeds – Leeds Music Hub
AUG 18: Leeds – Brudenell Social Club (w/ Joan of Arc)
AUG 21: Bristol – ArcTanGent Festival (w/ Joan of Arc, Deerhoof, Vessels, Dillinger Escape Plan, etc.)
AUG 23: Basingstoke – the Sanctuary
AUG 24: Brighton – Green Door Store (w/ Cousin, Japanese Sweets)
AUG 25: London – Old Blue Last (w/ Cousin)
AUG 26: Bristol – Stag & Hounds
AUG 27: Derby – the Hairy Dog (w/ Cowtown)
AUG 28: Newcastle – Head of Steam (w/ Ten Sticks)
SEPT 10: Glasgow – Bar Bloc
SEPT 11: Edinburgh – Henry's Cellar Bar
Keep your eyes peeled for a few more additions, and get in touch if you think I should be coming to your hometown.
In other news, I joined the band Invisible Cities for a month to help them make a record before they split up for good. We recorded the whole thing at Greenmount Studios in ONE DAY, and it should be headed your way soon!

Photo by Helen Teff
============================
LIVING: LOTS OF IT
New album nearing completion, ArcTanGent Festival, Guardian, Spin Magazine…
14 April 2015
Ok, things are happening. First, I've been locked in Greenmount Studios mixing the final chunks of the new record. There's lots to talk about, but I really want this thing to speak for itself. Let's just say it's more diverse than Semicircle, yet somehow simultaneously places greater emphasis on both dense drone and bulletproof pop songs.
Speaking of Semicircle, the record was recenty feaured in a Guardian list for the "101 Strangest Records on Spotify", mentioning "hot, crunchy blood", and "heavywight tape-manipulating chop-n-pop". Click here to read the full review.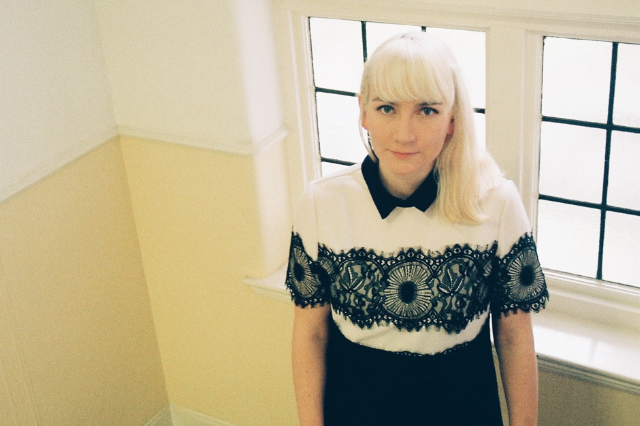 Next, check out Katie Harkin (who is playing/singing all over my new record) talking about her recent months touring with Sleater-Kinney in SPIN Magazine, and casually namedropping said forthcoming record.
Finaly, I've also been asked to play this years fantastic ArcTanGent Festival. This is going to be off the chain, people!
============================
2014 IN BRIEF (AND ONWARD)…
Recording, writing, recording, another festive mixtape, etc.
3 December 2014

Photo by Ravage Productions
As I sat down to write this binary tidbit, I realized what a busy year 2014 has been (as evidenced by this page's lack of updates). Time files, and I've written too many songs. Recording them is taking up another gigantic heft of time, but a new album is well underway. Thankfully, last year I made two FESTIVE MIXTAPES so I could put this one out now and pretend like I just made it. Thanks, 2013 me. You must have known I had a lot of shit going on. Drop it:
Juffage's Festive Xmas Mixtape (Vol. 3) by Juffage's Festive Party on Mixcloud
P.S. – CLICK HERE FOR A FREE DOWNLOAD, until it breaks. And apologies about the Zippyshare link. If there's an easy, free way to share big files on the internet, I've yet to figure it out. If you're so inclined, you can take these files and record them onto both sides of a C90 Cassette tape. Awesome free gift idea!
P.P.S. – While we're on the subject of gifts, there's only 11 copies of Semicircle vinyls left in the JUFFAGE WEBSTORE.
============================
MORE GIS & FESTIVALS 2014
More gigs & festivals announced, including "Sonic Cauldron" reunion
24 June 2014
Woah – more gigs in 2014!?! For one of these, Fell Foot Sound (an intimate festival in the Lake District), I'll be joining forces with Katie Harkin (Sky Larkin, Wild Beasts), Tom Evans (Vessels) & Jenna Isherwood (Invisible Cities) for a performance inspired by last year's Sonic Cauldron gig at Left Bank Leeds:
JUL 17: Glasgow – Bar Bloc
JUL 19: Fell Foot Wood – Fell Foot Sound (performing as 'Juffage Cauldron Ensemble')
JUL 22: Leeds – Brudenell Social Club (w/ Acollective, Nadine Carina)
JUL 25: York – City Screen Basement
JUL 27: Sheffield – Tramlines Festival (Millennium Gallery)
AUG 28: Newcastle – the Cluny 2 (w/ Grandfather Birds, Owain Davies)
AUG 29: Leeds – Wharf Chambers (w/ Field Harmonics, Danopposite, Matt Robson)
AUG 30: Hawkhurst, Kent – In the Woods Festival (w/ Laura Marling, Shopping, Temple Songs, etc.)
AUG 31: London – The Waiting Room (Stoke Newington)
SEPT 13: Wakefield – Long Division Festival
OCT 18: Manchester – A Carefully Planned Festival
There's still a few more exciting things to be announced during this period.
In the meantime, if you'd like me to play a show, get in touch.
============================
NEW VIDEO + SINGLE OUT TODAY!
surprise! 2 tracks from last year's celebrated "Sonic Cauldron" now available…
25 April 2014

Photo by B. Pettman.

Click here to watch in HD
WOAH. In celebration of the one-year anniversary of my "Sonic Cauldron" concert at Left Bank Leeds, I'm proud to finally release this into the wild. Here, for your enjoyment, are the first two tracks from the concert, available on YouTube and the Juffage Bandcamp page. Please share, download, and enjoy. Cheers!
============================
LIVE @ ARENA, WIEN: 10/11/12
Full set from the performance – now finally on Youtube
11 April 2014
Yikes! This was one of my favourite gigs from my last enormo-tour, and I sure am glad to see some videos of it finally exist. Filmed by classic cameraman Max-Louis Raugel, here is a full set live from Arena, Wien, AT.
============================
2014 UK TOUR DATES
it's happening again. bring a friend. come on down…
2 April 2014

Photo by M. Osborne.
After taking (essentially) a year and a half off playing gigs, I'm finally back at it this spring.
Expect to hear lots of new tunes from my forthcoming LP. Dates are as follows:
APR 18: Sheffield – The Riverside (w/ Falls, Honeybuzz)
APR 19: Derby – Derby Silk Mill (w/ Mega Emotion)
MAY 4: York – YO1 Festival @ the Knavesmire (w/ De La Soul, Pulled Apart By Horses)
MAY 4: Salford – Sounds From the Other City @ the Crescent (w/ PINS, ZZZ's, Thomas Truax)
MAY 5: Cardiff – Holy Boredom Festival @ Clwb Ifor Bach (w/ Zun Zun Egui, Pontiak, SJ Esau)
MAY 6: Cheltenham – Grumpy Whiskers
MAY 7: London – Brixton Windmill (w/ Gay, Screen Wives)
MAY 8: Basingstoke – the Sanctuary
MAY 9: Brighton – Alternative Escape @ Brighton Electric (NWfA stage)
MAY 10: Milton Keynes – MK Gallery (w/ Velodrome)
MAY 11: Northampton – Legendary Labour Club (w/ Velvet Engine)
MAY 14: Huddersfield – Bar 1:22 (w/ No Trays or Foxes)
MAY 16: Liverpool – Light Night @ Mello Mello
May 17: Nottingham – JT Soar (w/ Championlover, Screen Wives)
MAY 30: Wakefield – The Hop (w/ Department M)
MAY 31: Leeds – Veg Out @ Wharf Chambers (w/ Bearfoot Beware, Azores, Douga)
JUN 6: Salford – First Chop Brewing Arm (w/ Douga, Daniel Land)
JUN 19: Saltaire – Caroline St. Social Club (w/ Snack Family, Gurgles)
JUN 20: Newcastle – Butterfly Cabinet (w/ Owen Davies, Matt Saxon)
JUN 21: Hartlepool – the Clarendon (w/ Dressed Like Wolves)
Click on the gigs (where applicable) to view the Facebook events. It's gonna be a megaparty.
============================
BRAND NEW LIVE VIDEOS
An assortment of new Juffage videos, filmed in the Universe
14, March 2014
In celebration of some upcoming gigs and festivals in April & May (to be announced soon!), I'm debuting a few brand new live videos, with an INSANELY good treat at the end. All throughout the the rest of March and April, check back to this page each Friday and another NEW live video will greet your face. Stay tuned!
============================
2013 COMING TO A CLOSE
New album in progress. Until then…
16, December 2013

Photo by A. Benge.
HO HO HO.  It's that time of year again!  To ensure you all have a fun, funky, and festive holiday season, I have hefted off a maximum slab of holiday mixtapes for you.  The first mix is brand new for 2013, and the second mix was originally curated for Leeds Music Scene's 2010 Advent Calender*.  The suggested dosage is to place these mixes onto two sides of a good-quality C90 cassette tape, pop it in your Walkman, mosey on over to your friend's Xmas party or your grandma's Christmas lunch, and blow their minds with the fact that good holiday music actually exists.  Thriving:
Latest Juffage's Festive Party's Cloudcasts on Mixcloud
Click here to download the entire mix as a .zip file.
In other news, this year has been extremely productive.  Even though you may not have noticed, as I have been taking a break from playing shows, I'm currently putting the finishing touches on writing a load of new songs for an upcoming album**.  Some of you may have heard versions of a few of these songs if you came to my Sonic Cauldron concert at Left Bank Leeds this past April.  I was so pleased to see so many people out that night and to have the opportunity to play alongside some of my favourite fellow Leeds musicians.  Now to get it on wax, my new year's resolution.
If you scroll down to the next post, you'll also see I released a few live performance videos this year that I'm pretty proud of.  Have a look, and keep your eye out on Tweets and Facebooks early next year because I haven't yet released them all into the wild.  If you sign up for the mailing list to (to the right), you'll be the first to know about it!
Finally, I haven't just been listening to Christmas music.  Here's some albums released this year I particularly enjoyed:
> Mice Parade – Candella (FatCat)
> These New Puritans – Field Of Reeds (Infectious)
> Dosh – Milk Money (Graveface)
> Sky Larkin – Motto (Wichita)
> Unknown Mortal Orchestra – II (Jagjaguwar)
> Overseas – S/T (Self-Released)
> Nick Cave & the Bad Seeds – Push the Sky Away (Bad Seed Ltd.)
> Retribution Gospel Choir – III (Chaperone)
> Scout Niblett – It's Up To Emma (Drag City)
> Pick A Piper – S/T (City Slang)
> Colin Stetson – New History Warfare Vol. 3: To See More Light (Constellation)
> The Appleseed Cast – Illumination Ritual (Graveface)
> Waxahatchee – Cerulean Salt (Wichita)
> Oneohtrix Point Never – R Plus Seven (Warp)
> Sam Amidon – Bright Sunny South (Nonesuch)
> The Field – Cupid's Head (Kompakt)
> Peals – Walking Field (Thrill Jockey)
If you like this stuff, support these musicians; go to their shows, buy their records and keep on living.
Here's to 2014!
* the download link on the LMS page is old an broken, but you can attempt to download it here.
** sometimes this stuff takes a little while when you're only one guy and not a band with an army of publicists.
*** In a completely unrelated note, I also wrote about some beers I drank and enjoyed in 2013.
============================
… NEW VIDEOS, PT. 2
More live sessions from UK/EU tour late 2012
8, June 2013
Here are the next few live Juffage videos being released this month.  First, from the same Attic Addict session at La Malterie in Lille, is the track "HHV".  Also, a new song "Fate's Gone Away", live in Don Benito, Spain, at the Rincón Pio Sound.  Stay tuned for more videos in this series, filmed by traveling camera-operator Max-Louis Raugel.
============================
A MONTH OF NEW VIDEOS!
Live sessions from last year's EU tour, finally revealed…
24, May 2013

You should really click here to watch in HD
Well, well well.  Here we have the highest-quality Juffage videos to ever hit the world wide web.  Over the next month, I will be debuting a new live video each Friday afternoon.  To keep up with this gradual unraveling of information, head over to the Juffage Facebook & Twitter pages.  Make sure to give them a 'like' or a 'follow', and all will be revealed.
Above is the first video, Live at La Malterie in Lille, France.  Thanks to Attic Addict for filming!  Stay tuned!
============================
26/04/2013: SONIC CAULDRON
A unique one-off curation of new material @ Left Bank Leeds
20, February 2013

Poster by Adam Nodwell.  Click to view it big-style.
Hello, everybody!  I've been very busy working on new material since returning from my tour in December.  I will play many of these new songs live for the first time at Left Bank Leeds on April 26th, my only concert of 2013.  These one-off interpretations will be performed with fellow Leeds musicians, including Katie Harkin (Sky Larkin & Wild Beasts) and Tom Evans (Vessels).  Surrounding the audience with an array of loudspeakers, guitar and bass amplifiers, ghettoblasters, and Leslie speaker cabinets, the cavernous space of Left Bank will become an instrument in its own right.
Here is a short teaser video, which should give you some insight into what exactly is going on here:

You should really click here to watch this video in HD
I'm very excited about this, to say the least.  Tickets are currently available online from Jumbo, Crash, and in person at the Brudenell for just £5 in advance.  Click on the links to buy now!  Woohoo!!!
Also, there is a Facebook event here.  Please feel free to share and spread the word.  Hope to see you soon!!!
============================
2012 IN SUMMARY
I've toured a lot.  What's next…
15, December 2012

Photo by Djavanshir. N.
What a year!  I've played loads of great shows, amazing festivals, and just finished up a huge UK/EU tour.  Thanks to all the incredible people that helped make it happen, and to everyone who came out to a show along the way.  Hope you were able to make it to one.  I couldn't have done it alone, even though I'm alone (if you know what I mean).  Gratitude!
I'm now trying to track down any photos, videos, or reviews from any of my shows from this year.  If you filmed, photographed, or reviewed anything, please send me an email and let me know!  And please keep your eyes on this page, as there will be some new live videos popping up very shortly.  Thanks a bunch!
Finally, I have returned from tour with very few vinyl.  If you still haven't picked up a copy of Semicircle and would like one, head over to the Juffage Webstore ASAP.  They won't last long!
I'm taking a break from doing any shows for a while to work on recording another album.  I will, however, do ONE show this year in Leeds, at the fabulous Left Bank.  I'm composing a special one-off ambisonic performance utilizing the enormous space of Left Bank, and way too many speakers and amplifiers to fill it.  There will be some very exciting supports announced soon, whom I'm not allowed to mention yet.  But rest assured, it's going to be exciting.
============================
2012 TOUR STARTS TODAY!
ANOTHER YEAR OLDER, ANOTHER TOUR, AGAIN, AGAIN…
18, October 2012

Poster by Adam Nodwell. Click to view it big-style.
Hey internetters! My 2nd monster tour of the UK & Europe starts today in Newcastle, with 39 more exciting shows to follow. This will be my last tour for a very long time, and my last tour ever using my current equipment set-up, so don't miss out! When I return, I'm going to start recording a follow-up to Semicircle, and reworking/tweaking some technical and performative elements of my live set. The future looks exciting. Get ready.
Have a look below or check out the gigs page the to see all the dates. See you soon!!!
============================
AUTUMN 2012: UK/EU TOUR DATES
MORE SHOWS COMING YOUR WAY (PROBABLY IN YOUR TOWN)
14, September 2012
I'm doing another big UK/EU tour this year (like a boss). Here are the dates:
SEP 29: Leeds – the Packhorse (Super Luxury single release party w/ Bearfoot Beware,
Magnapinna, Double Muscle, Yougoslavian Boys, Vasco de Gama, Two Trick Horse)
————————————————————————————————————————
OCT 18: Newcastle – Morden Tower (w/ ParaStatic, Lionhall)
OCT 19: Dundee – the Doghouse (w/ Esperi, Cara Mitchell)
OCT 20: Aberdeen – the Lemon Tree (w/ Three Blind Wolves)
OCT 21: Manchester – A Carefully Planned Festival @ Soup Kitchen [early stage time of 2PM!]
(w/ Tall Ships, Brontide, Dad Rocks!, Plank!, Ben Butler & Mousepad, Bilge Pump, etc.)
OCT 25: York – City Screen Basement (w/ Muttley, Mononoke)
OCT 27: London – Power Lunches (w/ Action Beat)
OCT 28: Brighton – the Cowley Club (w/ Stuart Warwick, Flash Bang Band)
OCT 29: Southampton – Avondale House (w/ Pivotal)
OCT 30: Cardiff – the Moon Club (w/ Shiny Tiger, Conformist)
————————————————————————————————————————
NOV 1: Rotterdam, NL – Le Sud – Afternoon Show
NOV 1: Maastricht, NL – Landbouwbelang
NOV 2: Groningen, NL – ORKZ Bar (w/ Karoushi)
NOV 3: Den Haag, NL – Rewire Festival (w/ Errors, Lichens, Lotus Plaza, etc.)
NOV 4: Haarlem, NL – Patronaat Café – Afternoon show (w/ Movie Star Junkies, Zun Zun Egui)
NOV 4: Louvain-la-Neuve, BE – Ferme du Biéreau (w/ Scattered Order)
NOV 5: Lille, FR – La Malterie (w/ Cheyenne 40)
NOV 6: Gent, BE – Minus One (w/ Coredyceps, Six Hands, Stories From the Lost)
NOV 7: Köln, DE – Baustelle Kalk
NOV 8: Berlin, DE – Antje Öklesund
NOV 9: Berlin, DE – Madame Claude (w/ Brome, Ondula)
NOV 10: Wien, AT – Arena (w/ Xiu Xiu)
NOV 11: Graz, AT – CuntRa la Kunsthure
NOV 12: Bagno di Romagna, IT – Cantina Diva
NOV 13: Livorno, IT – Teatro C
NOV 14: Latina, IT – Circolo Hemingway
NOV 15: Roma, IT – Dal Verme
NOV 16: Bucine, IT – Spectre Live Club
NOV 17: Faenza, IT – Clan Destino
NOV 18: Ferrara, IT – Zuni
NOV 19: Milano, IT – Gattò
NOV 20: Toulouse, FR – Les Musicophages (w/ Shelly Short)
NOV 21: Bayonne, FR – Kixkil Ostatua
NOV 22: Madrid, ES – La Faena II
NOV 23: Don Benito, ES – Rincón Pío Sound
NOV 24: Lisboa, PT – Lounge
NOV 25: Vitoria, ES – Ibu Hots (w/ Viva Bazooka)
NOV 26: Zaragoza, ES – La Lata de Bombillas (Bombo y Platillo)
NOV 27: Bordeaux, FR – Novo Local
NOV 28: Tours, FR – Bar Les Joulins
NOV 29: Caen, FR – L'Ubu Cafe (w/ Nuage Magique X Grorator, Mombu)
————————————————————————————————————————
APR 26: Leeds – Left Bank (A one-off multichannel ambisonic performance in one of Leeds' finest acoustic spaces. Composed for Left Bank. With special guests. More details to be announced shortly.)
Hope to see you out there people!!! It's going to be great!
============================
SUMMER 2012: GET EXCITED
Festival Dates, Futuresound Competition, Endless Touring
2, July 2012
I'm so excited about my upcoming European tour, I think I'll just do this post in reverse chronological order.  First things first.  Last week, I just started booking another tour of Europe for November 1-30.  I plan to return to quite a few places I played last year, but am always open to new experiences/ideas.  If you are interested in having a Juffage concert in your city, please send an email to juffage [at] gmail [dot] com and hopefully we can work something out!
Next up, in August I'm playing this tasty shindig in the Yorkshire dales alongside tons of other great artists (I'm particularly excited about seeing Toots & the Maytals, Wild Beasts, Runners, and checking out the Noisey/Vice stage curated by Dirty Otter and Sexbeat!).  If you'd like some more info, check out the Beacons Festival Website.
I have a couple festivals lined up for July too.  Firstly, I'm going back to Sheffield for Tramlines Festival on Friday, July 20th, where I'll be performing at the Cathedral Church of St Peter & St Paul (alongside Leeds-based bro's Heart Ships, & lots more).  The following day, I'm heading up to Newcastle to play Narc. Fest (part of the Ouseburn Festival & hosted by Narc. Magazine).  More info about the event can be found at the Narc. Fest Facebook Page or Leave Me Here Gigs.
Finally, I'm playing the Futuresound Competition at the Cockpit on Tuesday, July 17th.  Also appearing that day are the bands Black Moth, Phonetics, and The World Service (full line-up here).  Just today, the gig was recommended by Drowned in Sound on their newest Drowned in Leeds column.  Most importantly, it will be the ONLY Juffage concert in Leeds until mid-October and, if you don't know the drill, the winners of this competition go on to play Leeds and Reading Festivals this summer.  The winners are partially determined by audience vote, so please get down and show your support.  You can buy tickets for the gig on this very website (for only £4), and the tickets include a FREE download of my newest EP, 'Small Fires'.  How cool is that!?!?!  For more info, check out the Facebook event here.
============================
REIMS LIVE VIDEO ETC.
Videos, Videos, and More Videos to come
12, February 2012
Here's a video someone filmed of me playing the song 'Small Fires' in a massive circus tent in Reims, France.  Click 720p to watch in HD (and why not in full-screen!?!), cause you're worth it.  In the next few weeks, I'll be doing some more filming with Tom Thiel, who now works for The Blind Club, and has done great work for the likes of Dinosaur Pile Up, Paul Thomas Saunders, and Dog is Dead.  So, keep your eye on this page for some quality live videos coming soon!  In the meantime, here's two videos that Tom filmed back in late 2010 at the Ashwood Studio in Leeds:
In other news, I completed my recent (enormous) tour of the UK and Europe unscathed, with the exception of a broken van (see below), and had some really great times.  Hats off to all the great promoters who put me on, and all the great bands I played with along the way.  You know who you are, and are to great in number to mention all of you here.
Finally, I'll be taking a break from shows for a while to work on recording, but will tour again at the end of the year.  However, I hear this year's British Wildlife Festival has some *very special guests*…………………
============================
VAN WOES IN SPAIN
AKA How people are awesome
1, December 2011
On November 28th, I was on my way to a show in Madrid when my van broke down on the side of the highway.  I was hit with an enormous repair bill I was not expecting and had to be towed in to Zaragoza.  I sent out a couple of posts on Twitter and Facebook asking fans for donations or that if they bought a record, the money would go towards getting my van fixed.  I didn't expect much, but I thought that even if 2 people donated €5, this would still be better than nothing.  However, in less than 48 hours I managed to raise €503.83 through merch sales and donations, only slightly less than I had to spend getting my van fixed.  This really is incredible and I am so grateful.  Your generosity is truly astounding.
Today, 'little partner' is back on the road.  I cannot begin to thank everyone enough.  It's been an amazing (and long) tour so far, and now I am able to finish my last 6 shows and get back to Leeds with all of my equipment.
If anyone reading this has made a donation and would like digital copies of any of my records (or Manduo/MMOOTI!?! releases), please write to juffage [at] gmail [dot] com and let me know.  I'm happy to send anything.  Also, if you live in Leeds and made a donation, I will happily cook you dinner.
Sadly, as a result of this I had to cancel two shows in Madrid (at la Faena II) and in Lisboa (at the Lounge).  My sincerest apologies go out to the organizers of these two concerts and the people who were planning to attend.  I will come back!
Muchas Gracias!
============================
SMALL FIRES EP & UK/EU TOUR
New EP Details, FREE download, Enormous tour of UK & Europe October-December
24, August 2011
Hey people.  Today is pretty exciting.  My brand-new EP "Small Fires" is set to be released November 7th on Function Records, but you can listen to it online right now!  I'm also giving away the single for FREE for a limited time.
Head over to http://juffage.bandcamp.com/album/small-fires-ep to pick up your free download.
I'm going to have a limited run of CD versions of this EP available on my upcoming tour dates as well (see below for tour dates & details).  Should you wish to do so, you can also preorder a CD now from the juffage webstore!  All preorders will be shipped before the first week of November.  Check it:
I'm heading out in October to play my biggest rock tour since 2008.  This time I'll be doing several European dates, and quite a hefty amount of UK gigs as well.  It's going to be a blast, but it's a lot of work.  Tour dates are as follows:
OCT 4 – leeds @ oporto (w/ sweet williams, magnapinna)
OCT 6 – edinburgh @ whistlebinkes (w/ esperi)
OCT 7 – aberdeen @ tunnels (w/ esperi)
OCT 8 – dundee @ drouthy neebors (w/ esperi)
OCT 9 – newcastle @ tyne bar (w/ invisible cities)
OCT 10 – york @ basememt (w/ where's hollywood?, section 9, aboy)
OCT 12 – liverpool @ mello mello (w/ hope & social)
OCT 14 – bolton @ dog and partridge (w/ invisible cities)
OCT 15 – leeds @ brainwash festival – royal park cellars (w/ lite, kong, maybeshewill, etc.)
OCT 16 – manchester @ a carefully planned festival – gullivers (w/ bearfoot beware, invisible cities, douga, etc.)
OCT 17 – nottingham @ spanky van dykes (w/ satnams tash, lukewarm equation)
OCT 18 – derby @ victoria (w/ tellison, little courage)
OCT 19 – stoke @ the smithfield (w/ plank!, amateur assassins)
OCT 20 – milton keynes @ mk gallery (w/ fifteen sixteen)
OCT 21 – norwich @ karma kafe (w/ sam james hill, maesrk, etc.)
OCT 22 – ipswich @ kai bar (w/ magic panda, 3ee3a, etc.)
OCT 23 – london @ old blue last (w/ cats and cats and cats)
OCT 24 – brighton @ the cowley (w/ van coeur, perch)
——————————————————————————————————
OCT 26 – mons, BE @ le cheminot
OCT 27 – paris, FR @ l'international (w/ geste, girl in trouble)
OCT 28 – reims, FR @ le chapiteau de la TRAC "Le Temps Des Cerises" (w/ theo, one man team dance)
OCT 29 – strasbourg, FR @ LE CEAAC (w/ balmorhea)
OCT 30 – nancy, FR @ le caveau du grand sauvoy
OCT 31 – liège, BE @ le tipi (w/ three trapped tigers)
NOV 1 – gent, BE @ kinky star
NOV 2 – lille, FR @ le ccl
NOV 3 – antwerpen, BE @ bar nadar
NOV 4 – maldegem, BE @ de walrus
NOV 5 – breda, NL @ mezz
NOV 6 – utrecht, NL @ pollination house show (w/ wave zero, container)
NOV 7 – jena, DE @ glashaus im paradies (w/ dosh)
NOV 8 – berlin, DE @ marie antionette (w/ dosh)
NOV 9 – leipzig, DE @ noch besser leben
NOV 10 – praha, CZ @ final (w/ noar+is+, hc tramp)
NOV 11 – brno, CZ @ boro club (w/ shield your eyes)
NOV 12 – wien, AT @ e.k. haus
NOV 13 – graz, AT @ sub (w/ stefan wieinegar is god)
NOV 14 – ljubljana, SI @ menza pri koritu-metelkova city
NOV 15 – maribor, SI @ gustaf hall pekarna
NOV 17 – riva del garda, IT @ lochness pub
NOV 18 – firenze, IT @ exfila (w/ gioacchino turù e giacomo laser, architectureoftheuniverse)
NOV 19 – faenza, IT @ clan destino
NOV 20 – ferrara, IT @ zuni
NOV 21 – itri, IT @ brigadisco's cave
NOV 22 – roma, IT @ dal verme
NOV 23 – forlì, IT @ diagonal loft club
NOV 24 – carpi, IT @ mattatoio culture club
NOV 25 – pavia, IT @ spazio musica
NOV 26 – montpellier, FR @ up and down
NOV 27 – barcelona, ES @ kasal de roquetes (w/ zozobra)
NOV 29 – madrid, ES @ la faena
NOV 30 – lisboa, PT @ lounge
DEC 1 – don benito, ES @ rincón pío sound
DEC 2 – san sebastián, ES @ sala mogambo
DEC 3 – bordeaux, FR @ les lectures aléatoires
DEC 5 – périgueux, FR @ louvessiou (house show)
DEC 6 – tours, FR @ les joulins
DEC 7 – paris, FR @ le rigoletto
——————————————————————————————————
DEC 12 – leeds @ the library (w/ monsters build mean robots, catscans, richard parker) – tour finale!!!
You are appreciated!  Hope to see you out there…
============================
INTERVIEWS ON THE INTERWEBS
Various recent interviews and Press
20, August 2011
I've been interviewed by some friendly people in the last couple of months and we talked about some stuff:
August 2011 Leeds Music Scene Interview by Kate Zezulka
June 2011 Vibrations Magazine Interview by Tim Hearson page 1 / page 2
July 2011 Beard Rock Interview by Sam Honch
Also, here's what some other friendly people have been saying about 'Semicircle':
"Computer music never sounded so humane … an album to be surprised by, and maybe even love." 7/10 – NME
"Compelling … a truly remarkable debut." 8/10 – Loud & Quiet Magazine
"A triumph … the perfect balance between the accessible and the avant-guard." 8/10 – Soundblab
"A highly personal, original work … you could well fall in love with this." 4/5 – Beard Rock
Want to read more?  There's lots more to read over here.
Finally, I'm announcing a boatload of tour dates in the next few days.  It's looking pretty bitchin' so far!
============================
SEMICIRCLE OUT TODAY
Free Shipping this week, Recent Reviews, Upcoming Summer/Festival Dates
6, June 2011

Photo by Joni Andrews
After all is said and done, playing a show virtually every day for a month is always going to have its ups and downs.  Fortunately, these past few weeks have been overwhelmingly positive; my car didn't break, (most) of my gear didn't break, I played with lots of great bands around the UK, and 'Semicircle' has already received some pretty positive reviews.  Here's what some people have had to say about it so far:
"Computer music never sounded so humane … an album to be surprised by, and maybe even love." 7/10 – NME
"Compelling … a truly remarkable debut." 8/10 – Loud & Quiet Magazine
"A triumph … the perfect balance between the accessible and the avant-guard." 8/10 – Soundblab
"A highly personal, original work … you could well fall in love with this" 4/5 – Beard Rock
Not convinced you need to own this yet?  How about FREE UK shipping to top it off!?!
Click to order your copy of 'Semicircle' L.P. (+ digital download & remix EP) and get FREE shipping in the UK (or £2 shipping in the rest of the world) before June 13th!
…And as if I haven't had enough of driving around the UK, I'm headed out for a few dates and some festivals over the summer including Doubledotbash!, Tramlines, Beacons, & Leave Me Here Festivals.  Keep up to date on the Gigs page!
============================
SEMICIRCLE ALBUM LAUNCH
RELEASE DETAILS, UK TOUR DATES, ALBUM PREORDER & FREE SINGLE DOWNLOAD
19, April 2011
Two weeks from today will be the first gig of the 'Semicircle' Album Launch Tour (click this link or the 'gigs' tab above to see the dates).  To celebrate the coming of these 30-odd shows around the U.K., myself and the guys over at Function Records thought it would be a good idea to give away a free download of the first single from the record, and a staple of the Juffage live set so far, "My Weakness".  This .mp3 download is free to mailing list subscribers who follow the link below.  If you have already signed up for the mailing list, just enter your address in again for the download (you won't receive double mailouts, promise!).  Starting today, you can also preorder the album right here, from the Juffage Webstore, or directly from Function Records who are offering FREE SHIPPING during the preorder period as part of a huge sale.  Last but not least, free downloads of "My Weakness" are available from the Juffage Bandcamp Page here:
Click here to claim your free download of "My Weakness"
Click here to preorder your copy of the 'Semicircle' L.P.
In other news, I am pleased to announce the tracklisting for the album:
1. Semicircle
2. 120/240
3. Small Fires
4. Stop Making Music
5. Under Fanblades
6. My Weakness
7. HHV
8. Drone II
Vinyls will be available for purchase on all 'Semicircle' Album Launch tour dates.
Preorders will be shipped on the official release date, June 6, 2011, and will include a bonus download EP of remixes by Ampersand, 2n3904, RUNNERS, James Yates (the Pattern Theory), Blithe Field, Dream Drunk, & Mako Sica.  Digital downloads will also be available from this date but will not include download of the bonus disc.
That's all for now.  Hope to see you on the road!
============================
NEXT GIG @ THE BRUDENELL/ BEACONS FESTIVAL
1 April, 2011
So this is pretty exciting; at the end of the month I'll be doing a gig at the Brudenell w/ the amazing Talons, and then embarking on an album launch tour shortly thereafter.  Check out the GIGS page to see how it's shaping up, and keep your eyes peeled for more tour dates and updates on the new record.  In other news, I've just been asked to play this:
I'll be taking the stage on the opening night, Friday August 12.  Loads of great bands are playing and with early bird tickets at £50, you can't really go wrong.  Head on over to the Beacons Festival Website for more information.
The next time I post on here, I'll be revealing the tracklisting and artwork for my new album 'Semicircle', along with a bunch of tour dates for the period of May/June.  The test pressings should be arriving in just over a week so get ready!
============================
MUGS NOW IN STOCK!!!!
29 January, 2011
What better way to show your appreciation for the musical stylings of Jeff T. Smith than by ordering your own brand new Juffage Mug?!?  Good question!  Whether it's a hot or cold beverage, you'll be drinking in style with this mug's spectacular wrap-around design (pictured here), printed in glorious full-color!  Invite your friends 'round and impress the pants off them by serving them a tea or coffee in a beverage container with unprecedented style and grace.
Pick one up today!!!!! Click the button to order >>>>>
Hi-res photos of mugs available here: Photo 1, Photo 2, Photo 3.
Now available from the JUFFAGE WEBSTORE for a mere £8 or at future gigs.
============================
NEW ALBUM/VIDEO/ETC
A.K.A. "MY DAY TODAY"
24 January, 2011
Interestingly, this picture above has very little to do with what I did today.  It was taken about four months ago at 63 Lumley Road when I borrowed my friend's synthesizer to record some parts for a song on my upcoming record.  Today, however, I went to use the monitors at Loom Studio to work on mixing that very song.  Unfortunately, I somehow managed to break the key off inside the door as soon as I got there and found myself stranded in the hallway.
Nevertheless, this incident marks a very momentous time.  Once I manage to get inside the studio and finish mixing, the album will be sent for mastering and will be released sometime in May on Function Records.
Keep your eyes on this page in the coming months for more news about the upcoming release.  I'll be taking a break from doing shows for the time being (with the exception of the wonderful British Wildlife Festival) to finish preparing for the upcoming release, and to get ready for a large tour to follow.
In the meantime, you can check out some brand new live videos here: Horray!
============================
VIBRATIONS MAGAZINE
19 January, 2011
I recently opened up the latest issue of Vibrations Magazine (December 2010) to see a big blue picture of my face.  It had somehow completely slipped my mind that I had been interviewed a few months ago at the Brudenell Social Club, right before going to a show for the band Low.  You can read the interview by clicking the link below.  Absolutely!
Interview from December 2010 Vibrations Magazine by Tim Hearson
============================
JUFFAGE-DOT-COM IS REAL!
14 January, 2011
Hello World!
Welcome to the internet.  From here on in, this will be the first port of call for all Juffage-related events, merchandise, and informations until the inevitable date in the future when Google.com will automatically redirect to this website.  Thank you very much for you cooperation and valuable time.
Sincerely,
The Management