HOME
MORE 2015 SHOWS ADDED
… a handful of extra shows added for this year
18 September 2015
I have a couple of extra shows for you this year, and stay tuned for big stuff in 2016!
SEPT 26: Leeds – Veg Out @ Northern Monk (w/ Post War Glamour Girls, Cowtown, Bearfoot Beware, etc.)
NOV 16: Leeds – Brudenell Social Club (w/ Julia Kent)
NOV 17: Sheffield – The Harley (w/ Marianne Dissard, Nat Johnson)
============================
NEW "CAULDRON ENSEMBLE"…
…Live Single from last year's Fell Foot Sound out now + Upcoming UK Tour Dates!
20 July 2015

Photo by Thomas Jackson
At least year's Fell Foot Sound festival, I joined forces with the previous players of the "Sonic Cauldron" concert for a second time.  Here, myself, Katie Harkin (Sky Larkin, Sleater-Kinney, Wild Beasts), Tom Evans (Vessels) & Jenna Isherwood (Invisible Cities) played a set of new and old Juffage songs, including "Stop Making Music".  Originally from 2011's Semicircle, this radically different version is the only time this song has been played as part of a group.
The single is now available to stream and buy from the Juffage Bandcamp page.
In other news, I'm heading out for another UK Tour beginning in August.
Joan of Arc's EU tour has been cancelled, so, sadly is this show on the 18th.
All other solo shows remain unaffected and are going ahead as scheduled!
For more info, check out the gigs page, or this superfly poster:
============================
SUMMER 2015 TOUR DATES…
…finally revealed.  Plus a new surprise Invisible Cities album!
7 July 2015

Photo by Katie Harkin
I'm doing some gigs this summer around ArcTanGent Festival, playing new songs from my forthcoming record.
Head over to the gigs page for a luscious tour poster.  Here's where I'll be headed:
AUG 14: Manchester – Carefully Planned (venue TBC)
AUG 15: York – City Screen Basement
AUG 16: Leeds – Leeds Music Hub
AUG 18: Leeds – Brudenell Social Club (w/ Joan of Arc)
AUG 21: Bristol – ArcTanGent Festival (w/ Joan of Arc, Deerhoof, Vessels, Dillinger Escape Plan, etc.)
AUG 23: Basingstoke – the Sanctuary
AUG 24: Brighton – Green Door Store (w/ Cousin, Japanese Sweets)
AUG 25: London – Old Blue Last (w/ Cousin)
AUG 26: Bristol – Stag & Hounds
AUG 27: Derby – the Hairy Dog (w/ Cowtown)
AUG 28: Newcastle – Head of Steam (w/ Ten Sticks)
SEPT 10: Glasgow – Bar Bloc
SEPT 11: Edinburgh – Henry's Cellar Bar
Keep your eyes peeled for a few more additions, and get in touch if you think I should be coming to your hometown.
In other news, I joined the band Invisible Cities for a month to help them make a record before they split up for good.  We recorded the whole thing at Greenmount Studios in ONE DAY, and it should be headed your way soon!

Photo by Helen Teff
============================
LIVING: LOTS OF IT
New album nearing completion, ArcTanGent Festival, Guardian, Spin Magazine…
14 April 2015
Ok, things are happening.  First, I've been locked in Greenmount Studios mixing the final chunks of the new record.  There's lots to talk about, but I really want this thing to speak for itself.  Let's just say it's more diverse than Semicircle, yet somehow simultaneously places greater emphasis on both dense drone and bulletproof pop songs.
Speaking of Semicircle, the record was recenty feaured in a Guardian list for the "101 Strangest Records on Spotify", mentioning "hot, crunchy blood", and "heavywight tape-manipulating chop-n-pop".  Click here to read the full review.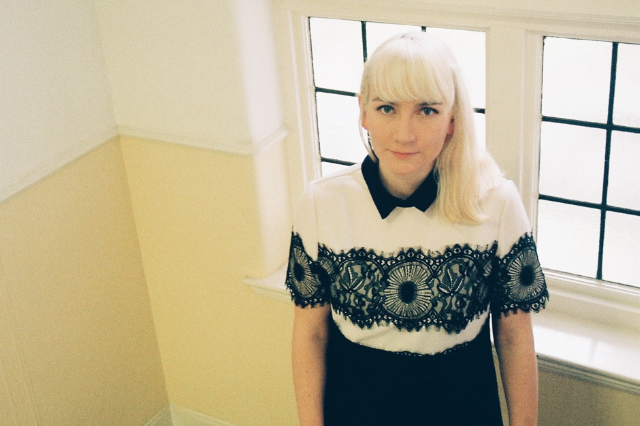 Next, check out Katie Harkin (who is playing/singing all over my new record) talking about her recent months touring with Sleater-Kinney in SPIN Magazine, and casually namedropping said forthcoming record.
Finaly, I've also been asked to play this years fantastic ArcTanGent Festival. This is going to be off the chain, people!
============================